Komi Cant Communicate Hindi Dub | Komi-san wa, Comyushou desu Hindi Dub | EP 11 Completed | Free Download and Watch Online for Free, HQ Hindi Dub Episodes, FHD Quality Less File Size, No Pop Up Ads, Fast Downloading and Streaming Servers, Anime in Hindi Free Download and Watch Online. Find More Anime in Hindi Dub for Free on DvAnime.com.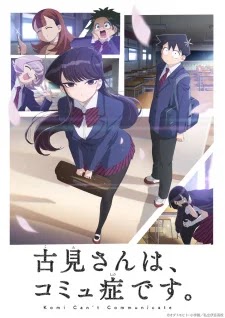 Komi Can't Communicate is a popular Anime Series of 2021. This anime series also available on Netflix. Komi Can't Communicate is a Japanese Manga Series, Which is written by Tomohito Oda and Illustrated by Tomohito Oda also. Tomohito Oda is very Amazing manga writer. He wrote Dezi-con and Uchuu Conveni Gyoumu Nisshi mangas as well. Komi San has a very uncommon fear of Communication Disorder. Komi Can't Communicate series is licensed by VIZ MIDEA. Komi Can't Communicate Anime Series is Licensed by Netflix for Streaming Globally.
Komi Cant Communicate More Info
Type: TV
Episodes: 12
Status: Finished Airing
Premiered: Fall 2021
Licensors: Netflix
Studios: OLM
Source: Manga
Genres: Comedy, Slice of Life
Theme: School
Demographic: Shounen
Duration: 23 min. per ep.
Rating: PG-13 – Teens 13 or older
Komi Cant Communicate Rating
Mal – 8.3/10 | imdb – 8/10
Komi Cant Communicate Plot
It's Shouko Komi's first day at the prestigious Itan Private High School, and she has already risen to the status of the school's Madonna. With long black hair and a tall, graceful appearance, she captures the attention of anyone who comes across her. There's just one problem though—despite her popularity, Shouko is terrible at communicating with others.
Hitohito Tadano is your average high school boy. With his life motto of "read the situation and make sure to stay away from trouble," he quickly finds that sitting next to Shouko has made him the enemy of everyone in his class! One day,
knocked out by accident, Hitohito later wakes up to the sound of Shouko's "meow." He lies that he heard nothing, causing Shouko to run away. But before she can escape, Hitohito surmises that Shouko is not able to talk to others easily—in fact, she has never been able to make a single friend. Hitohito resolves to help Shouko with her goal of making one hundred friends so that she can overcome her communication disorder.
Komi Cant Communicate Hindi Dub Screenshot
Komi Cant Communicate Hindi Dub Download Links
Hindi Dub by Hindi-Ani
English Name – Komi Can't Communicate
Type – Anime Series
Episodes – 12
Language – Dual Audio [Hindi + Japanese]
Quality – 480p, 720p, 1080p
Size – 100MB – 300MB
Season 1 Completed!!
Watch or Download Komi San Season 2 – Click Here
---
Follow Our Instagram Account Else Join Our Telegram Group.
Thank You for Supporting Us Your Support and Love is Very Much Appreciated 💝💖
Give Some Donation, If You Want.
---
More Anime in Hindi Dub –
---
Komi Cant Communicate Hindi Dub Trailer
---
Komi Cant Communicate Season 2
Season 2 is officially Confirmed for Komi Can't Communicate. Told The Confirmation of Season 2 after finishing the airing of Season 1 of Komi Can't Communicate. More Information is available on Komi Can't Communicate official Website.
Komi Can't Communicate Season 2 release date is not specifically decided but they said Season 2 will be released in 2022. I am guessing may or June will be the best months for releasing if the covid – 19 don't make any trouble for the anime production. Otherwise it will be delayed for the next decade.
Komi Can't Communicate Season 1 already breaking the records. So many peoples are talking about the Season 2 release date and confirmation. Komi Can't Communicate is very popular in India as well as in other big countries like USA. So many Ani YouTubers are talking about this anime. It has very good approach for showing this introvert personality. That is the very big reason for this anime popularity.
Preview of Komi Cant Communicate Season 2